Thursday 23rd Feb: Moo've n groove w/ James Aspey and music from Strangeways DJs Robert, Hugh & Carlo! Special animals sanctuary fundraiser event at Stereo. Tickets: http://bit.ly/2kwDy4y
Saturday 25th Feb: Go Vegan Scotland – Vegan Advocacy Talk & Workshop w/ James Aspey (11am-1pm, all ages). Tickets: http://bit.ly/2m2UiNt
Manchester's A Certain Ratio have signed to Mute to re-release their studio albums and a tonne of unreleased, previously unheard recordings. The band are celebrating with a few very special live shows across the UK and Europe. Join them at Stereo in Glasgow for the only Scottish date! With support from The Pits (Golden Teacher / The Modern Institute). Tickets: http://bit.ly/2i0iGQt
Saturday 4th Feb 2016
Stereo Cafe Bar
7.30pm
We can all agree that we'd quite like to see the back of 2016 as quickly as possible, so this year as well as celebrating the birth of 2017, we can party knowing that 2016 is well and truly dead. This year at Stereo we've brought together the finest and freshest hip hop club nights for evening of popping bottles. Before you get down to the night get to know the peeps playing the party.
TOMBOY
The freshest of the fresh, Tomboy might be newcomers but that doesn't mean they don't know how to cold rock the party. With a focus on alternative female hip hop, trap and grime (with a lil' bit of dancehall and R'n'B flung in for good measure) their nights encompass live performance from female MCs alongside resident DJ Sycophantasy . Previous guests  have included Lady Shocker and they've got some big names coming through for 2k17.
What can you expect: A lot of bad ass female MCs like Princess Nokia, Little Simz Paigey Cakey  and some alternative female hip hop from the far reaches of Soundcloud.
TOO NICE
Too Nice have been causing it for a few years now, they've partied in a few different venues over the years but they're currently residing in Stereo's basement. These boys specialise in  party rap, drill, dancehall and everything in between. Over the years they've collaborated with Astral Black, Freaky Freaky and Sub Rosa as well as hosting SpaceGhostPurrp and Yung Simmie. Their recent parties have utilised cities as a theme with nights  playing artists from cities such as Atlanta and New York.
What can you expect: Definitely a good time featuring everything from Lil Wayne to Yung Lean to Lil Yachty to Jay Z to Sicko Mobb to Drake to Beenie Man…you get the idea
Listen to their Soundcloud here
HANDPICKED
A staple of Glasgow's hip hop scene, the tape label has been distributing and releasing cassettes for several years. The tapes feature music from a range of producers across the full spectrum of rap and hip hop, from gold era flows to jazzy instrumentals and big beats. The collective features both DJs and artists and includes Bessa, DJ Picnic, Ile Flottante, Kayak and Tuner. They've been pretty busy throwing parties solo and with Frogbeats as well as collaborating with Glasgow based clothing label The Worst amongst other things.
What you can expect: Lil' bitta  funk, a lil' bitta rap and  loadssssssssssssssa' beats.  Artists on rotation will include Outkast, Cameo and A Tribe Called Quest
Listen to their Soundcloud here
PUSH IT
Push It are the undisputed party queens, the girls have been hosting events for just over two years. Their events have included throwing Beyonce and Britney themed parties as well as dedicating nights to exes and teen movie soundtracks. The female focused night aims to put women at the forefront both in terms of the music and the vibe of the night.  However,  they don't take themselves too seriously, they're quite happy dropping Paris Hilton's 'Stars Are Blind' right beside Mary J Blige and Lauryn Hill.
What to Expect: Female hip hop, pop, R'n'B from the likes of Missy Elliot, TLC, Destiny's Child Sugababes and Kelis. Probably some glitter curtains too.
Listen to their Souncloud here
HALF CUT
Another new kid on the block, Half Cut combines elements of jazz, disco, soul and fuses them with hip hop. The night has been holding its own mid week in Stereo  recently hosting Jeen Bassa. Several of the residents and guests have shows on Subcity including Pleasant Overthinking and Vugge. Half Cut specialises in good tunes and good vibes and are definitely ones to watch for the future.
What you can expect: An exploration of the genres that have played an integral part of forming hip hop as a genre alongside modern MCs and beatmakers. Leaning more to the chill end of the spectrum, artists such as Nujabes and Mos Def.
Stereo joyfully presents you with AGRROcultural PUNKTRONICA, ART WAVE DROP OUTS and KATHY BATES OBSESSIONISTS plus GLASGOW's FAVE LIVE ART RIOT GIRL BOI BAND and SPESHEST GUEST DJ ALSO
*SNAPPED ANKLES* *DOUBLE PUSSY CLIT FU*K* *ICHI PINKS* *ANDREW MILK DJ SET* https://www.facebook.com/events/1859555427621266/ *Hot on the heels of Buzzcut at CCA the night B4 https://www.facebook.com/events/208336829569858/ – you should go xo


https://soundcloud.com/snapped-ankles
http://www.snappedankles.com/
Thursday 15th December
Stereo
7.30pm
£5 OTD (£4 with Buzzcut ticket stub from BSL Buzzcut Dec at CCA on Weds… xo)
Tickets: http://bit.ly/2fKYthR
Islam Chipsy and his band EEK are a three-way force of nature from Cairo, Egypt described by those who've been caught in the eye of their storm as one of the most exciting live propositions on the planet. At the core of the group lies electro chaabi keyboard pioneer Islam Chipsy, whose joyous, freewheeling sonic blitz warps the standard oriental scale system into otherworldly shapes, as flanked by Mohamed Karam and Mahmoud Refat raining down a percussive maelstrom behind dual drum kits.
Positive energies all nite!!!
https://www.youtube.com/watch?v=rpGYjZB-gf0
10pm til 3am
£10 advance STBF
DEAR PATRONS! TUESDAY 1st NOVEMBER is WORLD VEGAN DAY.
To embrace and celebrate all our culinary and cross cultural influences we present a day of ECLECTIC BURGERS. This one off menu gives you five unique burgers with fabulous toppings / sides / salads you choose! Also available… soup / bread, seasonal special salad, selection cakes and cheesecakes. ENJOY! xox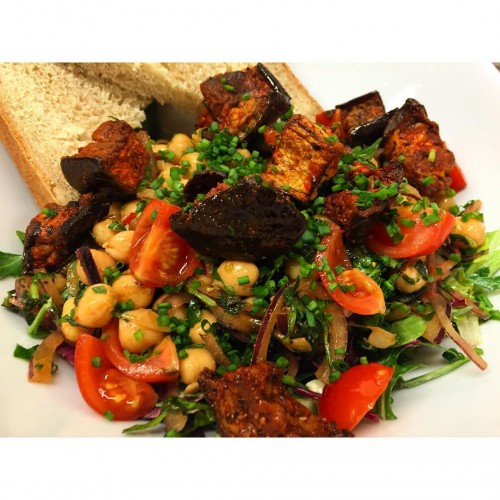 Stereo favourites Hannah Read and Rose Manson are back this week with another instalment of Pipe dreams. If you believe that club nights should be all about good tunes minus the chin stroking you'll live it. We got them to shed some light on what they're all about before the night.
What can We expect from the night?
A b2b disco until one of us gets too excited and drops some R'n'B. Rose will let me do a half hour of euro dance until she can no longer restrain herself from paying tribute to the great uk tradition that is funky house. it's like a 70s disco, your aunts wedding after 4am, and the house parties you dreamed of going to when you were 14.
Why did you start the night?
We started the night because a Subcity pairing led to us playing Joceyln Brown and the Pussycat Dolls in a 45 minute set and we wanted more so many people love these tunes but through some sort of embarrassed "ironic" lens we present them in a cringe free environment
floor filler?
As a genre we are keen. as a compilation cd, we already own it.
floor killer?
Surprisingly, and heartbreakingly; My My My by Armand Van Helden cause it just never really goes anywhere
Do you feel the club scene is changing club scene?
Certain venues (Stereo, Art School) are definitely catalysing positive change in the scene and other venues are starting to take notice and follow suit. Another really positive thing we've noticed is not just an increase in female djs but in female promoters as well (Push It, OH141) and we're excited to be part of that. Another aspect is about how everything is on vinyl, often seen as the premise of more pretentious purists, there are connotations that great vinyl djs play rare white label expensive things so to us it's so funny to be able to play something as uncool and popular as the Sugababes on this format and watching people trying to reconcile the fact that we're using Technics with the fact that they're hearing some Freemasons song is really funny to us.
Who inspires you?
Aside from all the obvious big name female djs, we're most indebted to all the other women who are in this with us (Sophie reilly, Sophie Kindreich etc) not just as djs and promoters but also all of our female friends who are passionate about techno, the bounce, clubbing, and the $e$h
What have you got planned for the future?
Continuing our line of parties and release a white label limited edition pink vinyl of our favourite Cheryl Cole singles. Also Rose saw some pink technics one time and we need them.
Have a wee listen to their pre-party Pipe Hype show on Subcity and get in the mood and catch the night this Thursday at Stereo
https://www.facebook.com/events/744744015668295/
Tickets for this year's Vegfest Scotland are now on sale at the bar in Stereo, as well as in Mono, The Old Hairdressers, The Flying Duck and The 78!
Tickets for the massive two-day event are £6 (no booking fee) and attendees can look forward to taking part in one of the biggest vegan festivals in Europe…

 
The continuing success of Vegfest stems from seamlessly combining food and education with features such as the kids area and live music, which makes health and ethics accessible to not only health enthusiasts and animal lovers, but also festival goers and those just looking for a top day out with their families.
 
About 10,000 visitors are expected at Vegfest Scotland which includes a sumptuous cocktail of activities, including:
– 160 stalls with merchandise, information, special offers and free samples aplenty,
– 13 caterers with a colourful menu of globally inspired vegan food,
– Talks on light veganism
– Talks on deep veganism
– Cookery Demos,
– Vegan Health Summit (Saturday only),
– Vegan Activists Summit (Sunday only),
– Performances,
– Kids Activities with cookery classes and magic shows,
– Mature Zone for the elderly,
with more TBC.
Approximately 120 exhibitors are already confirmed at the event with a sizeable proportion of them from Scotland.
 
Follow Vegfest Scotland also on Facebook and Twitter @VegfestScotland 
Join the Facebook event at:
https://www.facebook.com/events/237230453284293 
Visit www.vegfest.co.uk for details on all other vegan events, and visit www.vegfestexpress.co.uk for all latest vegan news worldwide updated 24-7.
If you haven't been to Push It, you're missing out. Every month the club night takes over both floors or Stereo and packs out the venue with people letting loose to the hottest female hip hop and R'n'B. We spoke to the girls to find out what the chat is with one of Glasgow's favourite nights.
What can we expect from the night in terms of music?
Aby: We play r&b, hip-hop and pop entirely from female artists, you can hear a few male artists but only when they take a back seat featuring role. We play both current tracks alongside long-time loves and total classics.
Cat: Loadsa' Bey, loadsa' Britney, loadsa' fun.
Why did you start the night?
A: We started Push It to have as much fun as humanly possible. We both love the Glasgow clubbing scene but at the time, didn't really feel there was any clubnights that we could call home and feel totally safe to get MWI. We started Push It as a venture between two pals who wanted to create more space to dance to Beyonce, basically without the fear of letchy dudes.
C: Yeah, basically we wanted a space for people to listen to really sexy music, feel sexy but not be harassed for being themselves. We also wanted to create a night for LGBTQ+ folk to feel safe  and listen to this kinda' music outwith venues on the scene.
What sorta' vibe are you trying to create?
A: We're mega passionate about Push It being a safe space, we have a zero tolerance policy to any kind of prejudice.
C: A vibe that says people can have the best time and not have to worry about being harassed or made to feel uncomfortable.
Floor filler?
A: New big hits are usually guaranteed floor fillers as it's what the crowd are listening to at that time. We held a Beyonce's Lemonade inspired night recently called Hold Up and that was one of our biggest and bestest. But there are total classics that the crowd always respond to really well, like a lot of Destiny's Child, TLC, J.LO, Kelis…
Push It is also great because there's songs we play that you'd expect to totally fail but actually everyone loves guiltily. We've played complete ballads before past 2am that have been a roaring success like Aby's favourite I'm Not A Girl, Not Yet A Woman, people genuinely get their lighters out and for a moment they merge souls with Britney.
C: Toxic!!!!! And any Nicki Minaj
Floor killer?
A: The best floor killer and 'oh s**t' moment that we've had was when we decided to play Shakira's Wherever, Whenever which is a total tune and usually goes down a storm. However, this time we had accidentally cued an instrumental version that we somehow had the file for and for a good 30 seconds we were just waiting for the vocals to kick in. They never did.
C: That was so funny, everyone just sang the words anyway. The same happened with Lady Gaga's Judas. We have such a great crowd though, nobody judges.
How long has the night been running?
A: 2 years, which is totally crazy. Our spontaneous decision to make Push It happen was a totally great one and we really hope it continues to be as successful with as many people having a wicked time.
What do you plan for he future?
C: Collabs, special guests, maybe some ventures in other cities, whatever we can get away with!
Push It's next event will be paying homage to all the fine ladies of R'n'B. Check out the event here: https://www.facebook.com/events/1069387579797770/
And have a wee listen to a special edition mix here: https://soundcloud.com/push-it-902942933/wooooo