If you haven't been to Push It, you're missing out. Every month the club night takes over both floors or Stereo and packs out the venue with people letting loose to the hottest female hip hop and R'n'B. We spoke to the girls to find out what the chat is with one of Glasgow's favourite nights.
What can we expect from the night in terms of music?
Aby: We play r&b, hip-hop and pop entirely from female artists, you can hear a few male artists but only when they take a back seat featuring role. We play both current tracks alongside long-time loves and total classics.
Cat: Loadsa' Bey, loadsa' Britney, loadsa' fun.
Why did you start the night?
A: We started Push It to have as much fun as humanly possible. We both love the Glasgow clubbing scene but at the time, didn't really feel there was any clubnights that we could call home and feel totally safe to get MWI. We started Push It as a venture between two pals who wanted to create more space to dance to Beyonce, basically without the fear of letchy dudes.
C: Yeah, basically we wanted a space for people to listen to really sexy music, feel sexy but not be harassed for being themselves. We also wanted to create a night for LGBTQ+ folk to feel safe  and listen to this kinda' music outwith venues on the scene.
What sorta' vibe are you trying to create?
A: We're mega passionate about Push It being a safe space, we have a zero tolerance policy to any kind of prejudice.
C: A vibe that says people can have the best time and not have to worry about being harassed or made to feel uncomfortable.
Floor filler?
A: New big hits are usually guaranteed floor fillers as it's what the crowd are listening to at that time. We held a Beyonce's Lemonade inspired night recently called Hold Up and that was one of our biggest and bestest. But there are total classics that the crowd always respond to really well, like a lot of Destiny's Child, TLC, J.LO, Kelis…
Push It is also great because there's songs we play that you'd expect to totally fail but actually everyone loves guiltily. We've played complete ballads before past 2am that have been a roaring success like Aby's favourite I'm Not A Girl, Not Yet A Woman, people genuinely get their lighters out and for a moment they merge souls with Britney.
C: Toxic!!!!! And any Nicki Minaj
Floor killer?
A: The best floor killer and 'oh s**t' moment that we've had was when we decided to play Shakira's Wherever, Whenever which is a total tune and usually goes down a storm. However, this time we had accidentally cued an instrumental version that we somehow had the file for and for a good 30 seconds we were just waiting for the vocals to kick in. They never did.
C: That was so funny, everyone just sang the words anyway. The same happened with Lady Gaga's Judas. We have such a great crowd though, nobody judges.
How long has the night been running?
A: 2 years, which is totally crazy. Our spontaneous decision to make Push It happen was a totally great one and we really hope it continues to be as successful with as many people having a wicked time.
What do you plan for he future?
C: Collabs, special guests, maybe some ventures in other cities, whatever we can get away with!
Push It's next event will be paying homage to all the fine ladies of R'n'B. Check out the event here: https://www.facebook.com/events/1069387579797770/
And have a wee listen to a special edition mix here: https://soundcloud.com/push-it-902942933/wooooo
Hullabaloo have been wreaking havoc in the basement for quite some time. With a heady yet skilfully blended mix of all things electronic as well as reverence for the classics, Dom and Butsay know how to hold it down. We had a chat with them about the night and the future.
What can we expect from the night in terms of music?
A kind of eclectic mix, we never want to feel constrained by genre or anything like that but I guess it's mostly house & techno
What sorta' vibe are you trying to create?
I guess we just throw a big stupid party, not really one for the technopolis as much as I'd love that kind of t shirt techno bro to come down and glare at me for playing abba I doubt they'd have fun.
What nights are you inspired by?
iAM and Optimo
Floor filler?
I'm really enjoying playing The Trouble With Me – Black Legend just now. It's from like 15 years ago but it was such a massive tune then and it went out of vogue for a while.
Floor killer?
Hahaha I played this weird instrumental intro thing at like 1am at the last Hullabaloo and everyone went for a fag.
How long has the night been running?
2 years this November, the one this Friday is our 19th party in stereo
What do you plan for he future?
Confetti and Disco Balls. Everywhere. Promise we'll help clean up.
Hullabaloo will be holding a very special party dedicated to yer' nan's favourite band Abba. Have a wee listen to their Soundcloud in the meantime https://soundcloud.com/hullabaloogla/domsbirthdaymixjpg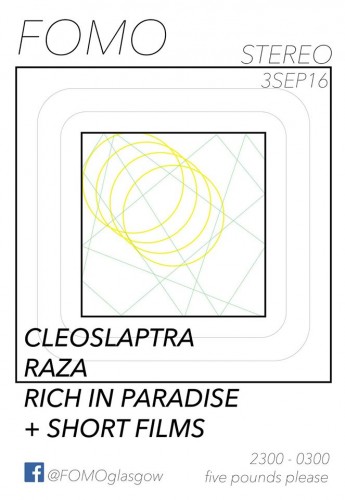 FOMO is a night which aims to bring together works of moving image and music form artists and DJs respectively. It make it's debut in the basement this weekend. Stereo spoke to one of the organisers , Erika Silverman to get a get a feel for the vibe of the night.
what can we expect from the night?
A mixture of film and music from artists throughout the city.  A chance to dance, see films, get inspiration, and collaborate.
Why did you start the night?
We started the night as a way of showing off our friend's works in a casual party atmosphere and now want more to get involved!

How do you source the artists?
All artists and those interested submit their work through our facebook page or email and we try to accommodate a space for everyone!  Glasgow/Scotland is so full of creators (artists and amateurs alike!) we don't have to go far to find great talent.  We aim to be accessible to all and provide a space for emerging artists and artworks allowing for experimentation.
What nights are you inspired by?
We are inspired by the various art events throughout Glasgow like the film or art events at the city's various festivals!  Also, the DIY culture of America where friends gather in basements to have gigs, show off songs and films, sell t-shirts, and (of course) party.
What do you plan for the future?
We hope to get bigger and better!  All proceeds from the night go toward future nights and supporting the artists with the aim to eventually creating a permanent space within the city.  We aim to have these nights every 3 months and try to offer something new at each one.


Have a look at the event and a listen to some of the tunes to come from the night here:
Stereo and Night School present: Ela Orleans *Circles of Upper and Lower Hell* Album Launch
w/ John Lemke (live) + Apostille (live) + Stephen Pastel (DJ set)
Tickets available from Monorail Music, Tickets Scotland and online at http://bit.ly/2aTlj3D
https://soundcloud.com/elaorleans
http://www.lostinsounds.com/
https://apostille.bandcamp.com/
http://nightschoolrecords.com/
http://www.thepastels.org/
Stereo Cafe Bar presents Batteries (a.k.a Sci-Fi Steven from Glaswegian disco/punk legends Bis – backed by all three Michael's from We Are The Physics) – 'The Finishing Line' – Album Launch – with guests Rapid Tan +The Pooches
Tickets: http://bit.ly/2a8Hhzp
Steven Clark returns with his one-man-band project Batteries what seems like seconds after last year's self-titled snappy New-Wave debut. The debut's dystopian potential future themes remain, but this time both the musical and lyrical safety nets have been removed.
With the "Devo plays Queens Of The Stone Age or vice versa" mantra still a loose guide, 'The Finishing Line' opens with the vague reassurance of lost Punk 45 'The Fall-In-Love Club' before the safety is removed for the unhinged journey ahead. Remnants of Bill Nelson's Red Noise and Cardiacs abound in 'Mutual Enemies' and 'Hidden Tracks' while there's edgy American metallic synth punk in 'Pigs', 'Pankhurst' and 'Children Be Normal' which recalls Jesus Lizard and Brainiac.
It's a restless itchy record, fleeting pop melodies are crushed by industrial strength guitars, but one that is a cohesive reward and illustrates Steven's unique musical vision.
Links…
http://batteriesmusic.com/
https://facebook.com/batteriesmusic
https://twitter.com/batteriesmusic
https://soundcloud.com/batteriesmusic
JACOB YATES & THE PEARLY GATE LOCK PICKERS LAUNCH THEIR SECOND ALBUM… GOTHS!!!
& 7″ SINGLE 'THE GOSPEL ACCORDING TO THE SELFISH GENE' VIA VAVA RECORDS
LOCKPICKERS PLAY STEREO SOMETIME AFTER 8 >>> THEN DJS IN OLD HAIRDRESSERS TILL LATE, £6
https://www.facebook.com/jacobyatesandthepglps/?fref=ts
IT'S OUT LAST EVER, EVER, EVER SHOW!
Come help see us off, Once More, With Feeling! A six-act spectacular featuring…. A.L KENNEDY! A NEW INTERNATIONAL! MCGUIRE! JONNIE COMMON! ROSEANNE REID! GEORGIA BARTLETT-MCNEIL!
Bring yer dancin' shoes, compadres…..
https://www.facebook.com/events/521574838048385/
MAYDAY Night School into the Night. Til LATE.
ADV TIX: http://www.wegottickets.com/event/354941
FB: https://www.facebook.com/events/985192711517239/

THE NUMBER ONES
There can be none other. The Number Ones hail from Dublin but their permanent home is your heart. With a background in psychedelic folk and hardcore, The Number Ones thankfully sound nothing like either: theirs is a pure power pop, like The Undertones or any of the Good Vibrations groups or The Beatles with distortion pedals, or the Buzzcocks on a Yellow Pills compilation. Following stone cold classic singles, The #1s's debut album on Static Shock is like 10 Jaegerbombs slammed straight to your brain, with all the sweet sadness and sugar-rush melody that suggests. The 4 lads' last show at the note was a riot, let's make this a night to remember. Sean Goucher, Cian Nugent, Eddie Kenrick, Conor Lumsen what's the crack? Wait that's not right..
BREAKFAST MUFF
Glasgow's wonderkids Breakfast Muff are riotous, a beautiful day-glo punk crash making it up as they go along. Or maybe there's a grand plan, unveiling itself so fast and with such a sharp, popped punk loving dagger if you blink you're already enthralled. With their 2nd album Rainbow Yawn on Fuzzkill Records, BF are the best friends everyone wished they have, a distorted colourful ooze that welds melody, anger, joy, guitars and joie de vivre.
ANXIETY
Formed in the later half of 2015, the Glasgow-stewed quadraped malignants have already faced being banned from venues, thrown off bills, chained to railings, been subject to passing diseases and doused in drinks. Members of Pennycress, The Lowest Form, Apostille, Herbert Powell, Helena Celle stick a skewer in a crusty mainline of protest peace punk a-la Rudimentary Peni / Crass, lick the tip of fast-paced falling-down-the-stairs HXC with Crudos in mind and war dispoetical about darkness, wetness and ripped crotches. Chaos with a capital URK.
MORDWAFFE
Bubbling over from an unnameable group of Glasgow based reprobates, Mordwaffe are another alignment of troubled humans David Roeder, Musho Fernandez, Matt Walkerdine, Ruari MacLean, Jess Higgins. For their second show, Mordwaffe's jams will be kicked out, a Velvets klang spearheaded into the night coalescing around Roeder's guiding light. Off kilter with plenty underneath the distorts-fuzz.
DJ PICKLES
DJ BRING YOUR IPODS from 1979
ADV TIX: £5
ON THE DOOR: £6