September Highlights: Interview with Erika Silverman (FOMO)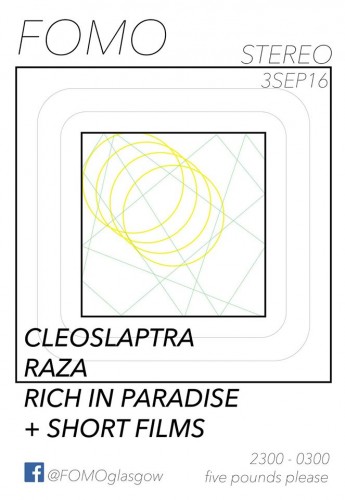 FOMO is a night which aims to bring together works of moving image and music form artists and DJs respectively. It make it's debut in the basement this weekend. Stereo spoke to one of the organisers , Erika Silverman to get a get a feel for the vibe of the night.
what can we expect from the night?
A mixture of film and music from artists throughout the city.  A chance to dance, see films, get inspiration, and collaborate.
Why did you start the night?
We started the night as a way of showing off our friend's works in a casual party atmosphere and now want more to get involved!

How do you source the artists?
All artists and those interested submit their work through our facebook page or email and we try to accommodate a space for everyone!  Glasgow/Scotland is so full of creators (artists and amateurs alike!) we don't have to go far to find great talent.  We aim to be accessible to all and provide a space for emerging artists and artworks allowing for experimentation.
What nights are you inspired by?
We are inspired by the various art events throughout Glasgow like the film or art events at the city's various festivals!  Also, the DIY culture of America where friends gather in basements to have gigs, show off songs and films, sell t-shirts, and (of course) party.
What do you plan for the future?
We hope to get bigger and better!  All proceeds from the night go toward future nights and supporting the artists with the aim to eventually creating a permanent space within the city.  We aim to have these nights every 3 months and try to offer something new at each one.


Have a look at the event and a listen to some of the tunes to come from the night here: